Yoghurt Panna Cotta with Salted Nut Brittle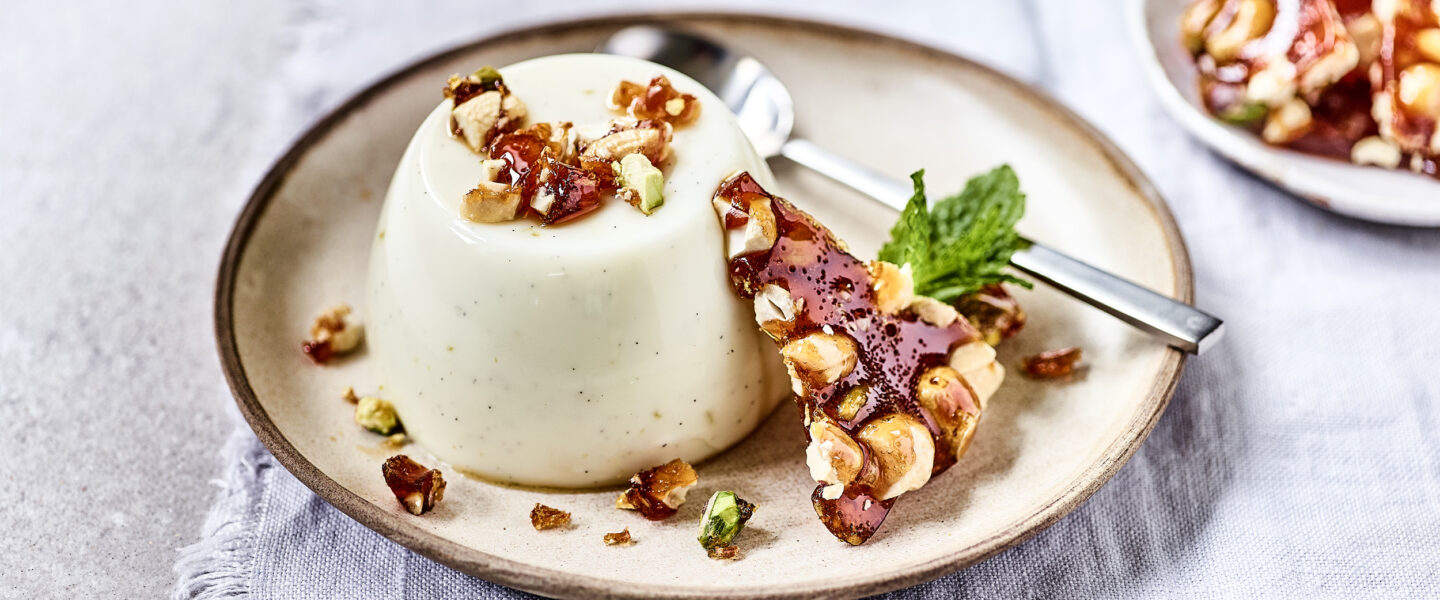 Prep:

10 minutes plus setting

Cook:

5 minutes

Serves:

4
Prepare the day before and leave to set overnight. Store the brittle in an airtight container and break into shards just before serving.
---
INGREDIENTS
4 sheets leaf gelatine (7g)
350ml milk
1 tsp vanilla bean paste
Zest 1 lime
50g caster sugar
½ tsp Lo

Salt

275g natural yoghurt
Salted nut brittle:
100g caster sugar
25g unsalted cashews, roughly chopped
25g pistachios
¼ tsp LoSalt
---
METHOD
Soak the gelatine in cold water for 5 minutes.
Place the milk, vanilla, lime zest, sugar and Lo

Salt

in a small saucepan and heat to just below boiling point. Squeeze the excess water from the gelatine and add to the milk, stir until dissolved. Cool slightly before stirring in the yoghurt.
Pour into 4 x 200ml dariole moulds or ramekins and place in the fridge to set for 4-5 hours.
Meanwhile, to make the brittle, place the sugar in a small saucepan and gently heat until melted and golden in colour, stir in the nuts and LoSalt. Pour out onto a tray lined with baking parchment and allow to set.
Dip the moulds in a bowl of hot water to loosen before turning out onto plates, break the brittle into shards and serve with the panna cotta.